Peter Turkeltaub, M.D., Ph.D.
Assistant Professor, Neurology, GUMC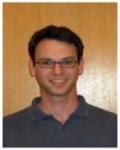 Dr. Turkeltaub is a cognitive neurologist and neuroscientist whose research investigates the brain's organization for language and other cognitive faculties, how this organization changes in the context of developmental or acquired brain disorders, and how we might enhance recovery. The work is conducted using healthy volunteers and individuals with developmental and acquired language disorders. We use a variety of techniques, primarily TMS, tDCS, fMRI, neuroimaging meta-analysis, and neuropsychology. We aim to expand our methods to include voxel-based lesion analysis, combined tDCS/fMRI, and combined TMS/EEG. A key aim of the laboratory is to develop new treatments for language disorders and translate these treatments to the bedside.
His current specific areas of investigation include pre-lexical speech perception, tDCS as a treatment for developmental dyslexia, right hemisphere mechanisms of recovery in aphasia, and treatment of chronic aphasia using TMS.
Dr. Turkeltaub runs the Cognitive Recovery Lab, at GUMC and MedStar NRH.