Peter Turkeltaub, M.D., Ph.D.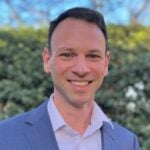 Professor, Departments of Neurology and Rehabilitation Medicine, GUMC
Director, Aphasia Clinic, MedStar National Rehabilitation Hospital
Director, Neuroscience of Language Training Program
Medical Director, Center for Aphasia Research and Rehabilitation, GUMC
Medical Director, Center for Functional and Molecular Imaging
Dr. Turkeltaub runs the Cognitive Recovery Lab, at GUMC and MedStar NRH. The mission of the lab is to improve the lives of people with cognitive and language difficulties by expanding our understanding of (1) how the brain performs language and cognitive functions, (2) how these brain systems change in the face of injury or dysfunction, and (3) how we can improve recovery.
Dr. Turkeltaub is a neuroscientist and board-certified cognitive neurologist focusing on stroke neurorehabilitation. His research focuses on post-stroke aphasia using a variety of techniques, including functional and structural MRI, neuropsychology (lesion studies), EEG, transcranial magnetic stimulation (TMS), and transcranial direct current stimulation (tDCS). Dr. Turkeltaub's clinical efforts are devoted to post-stroke language and cognitive impairments, primarily aphasia. He is part of an interdisciplinary care team at the Aphasia Clinic at MedStar NRH that makes recommendations for optimizing recovery from post-stroke aphasia.
Education & Training
MD, PhD, Neuroscience, Georgetown University
Neurology Residency, University of Pennsylvania
Cognitive Neurology Fellowship, University of Pennsylvania
Contact Info
Building D, Room 157
turkeltp@georgetown.edu