Matthew Edwardson, M.D.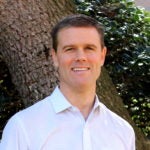 Assistant Professor, Departments of Neurology and Rehabilitation Medicine, GUMC
Attending Physician, Medstar Georgetown Stroke Program, GUMC
Dr. Edwardson leads the Biomarkers of Stroke Recovery Lab.  His research focuses on biomarkers of motor recovery from stroke, including molecular and neuroimaging biomarkers.
Dr. Edwardson's work uses multi-omic methods, including transcriptomics, proteomics and lipidomics in blood plasma to identify molecules associated with motor recovery in stroke patients. The long-term goal of his research is to determine the molecular underpinnings of stroke recovery in humans and use this knowledge to develop recovery-based therapeutics. His research has been supported by the Georgetown Partners in Research program, the Georgetown Center for Brain Plasticity and Recovery, and the National Institutes of Health.
Education & Training
MD, Northwestern University
Neurology Residency, University of Washington
Neural Plasticity Research Fellowship, University of Washington
Vascular Neurology Fellowship, National Institutes of Health
Contact Info
Building D, Room 295
mae97@georgetown.edu