M. Carter Denny, M.D., M.P.H.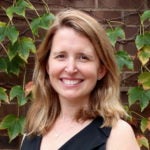 Assistant Professor, Department of Neurology, GUMC
Attending Physician, Department of Neurology, GUMC
Dr. Denny leads the Comprehensive Stroke Clinic Project. She is the site Principal Investigator of the recently completed STEPs study (Stroke Transitions Education and Prevention) in collaboration with colleagues at UTHealth in Houston, Texas. She also serves as a co-investigator of the NIH-funded ARCADIA study (AtRial Cardiopathy and Antithrombotic Drugs In Prevention After Cryptogenic Stroke).
Dr. Denny is an early career physician scientist with research interests in systems of care delivery and secondary stroke prevention. She provides both acute stroke care at MedStar GUH and outpatient stroke prevention care. Dr. Denny has participated in several stroke clinical trials. With the support of a MHRI New Investigator grant, Dr. Denny is now recruiting hypertensive stroke survivors into a home blood pressure self-management study that she designed with the critical appraisal of the MedStar Research Scholars Program. She was awarded an NIH StrokeNet fellowship as a Georgetown junior faculty member for the 2017-2018 academic year.
Education & Training
MD, MPH, Tulane University School of Medicine
Internship, Tulane University School of Medicine
Residency, Neurology, Medstar Georgetown University Hospital
Fellowship, Vascular Neurology, University of Texas Health Science Center at Houston
Contact Info
PHC 7, Room 7053
mcd88@georgetown.edu
MaryCarter.Denny@medstar.net