Ella Striem-Amit, Ph.D.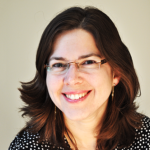 Assistant Professor, Department of Neuroscience, GUMC
Dr. Striem-Amit leads the Sensory and Motor Plasticity Lab which explores the extent to which brain organization depends on one's own sensory or motor experience. The lab does this by studying models of early-onset sensory and motor deprivation using behavioral and functional magnetic resonance imaging (fMRI) techniques.
Dr. Striem-Amit's research examines the neural processing of action in several groups who experience early sensory and motor deprivation, including the main study group: people born without hands. Other research lines explore brain plasticity in other models of sensory deprivation, such as people born blind or deaf. The long-term goal of her research is to provide novel insights towards better rehabilitation, sensorimotor aids and prosthesis development.
Education & Training
PhD, Neurobiology, Hebrew University of Jerusalem, Israel
Postdoctoral Fellowship, Department of Psychology, Harvard University
Contact Info
New Research Building, Room WP10
es1487@georgetown.edu