Barbara Landau, Ph.D.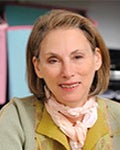 Dr. Landau is the Dick and Lydia Todd Professor in the Department of Cognitive Science and Vice-Provost for Faculty Affairs at Johns Hopkins University. She received her Ph.D. from the University of Pennsylvania, and has held faculty positions at Columbia University, the University of California-Irvine, and the University of Delaware.
Dr. Landau is a Fellow of the American Academy of Arts and Sciences, the Cognitive Science Society, the American Psychological Society, and the American Psychological Association, and was named a Guggenheim Fellow for the year 2009-2010. She has written or edited books and special issues on the topics of language acquisition, cognition and cognitive development.
Dr. Landau's research ranges broadly across the domains of space and language by focusing on the nature of human spatial knowledge, the nature of language acquisition and the relationships between space and language. Current projects include investigations of non-linguistic spatial representation in normal children and people with Williams syndrome; cross-linguistic studies of spatial language; the effect of brain damage on space, language and art; and whether the language children learn affects the way they think.