The Center for Brain Plasticity and Recovery is a joint enterprise of Georgetown University and MedStar National Rehabilitation Network. Borne of GUMC's Strategic Planning Initiative, this Center is designed to develop groundbreaking approaches to restore brain function caused by neurological damage and disease. It focuses on the study of neuroplasticity, the biological process underlying the brain's ability to learn and develop, and a potential recovery tool in conditions such as stroke, traumatic brain injury, multiple sclerosis, and dementias such as Alzheimer's. The Center's long-term aim is to stimulate the brain to recover from damage, preserving and restoring neurologic function.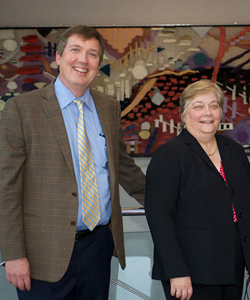 Elissa L. Newport, Ph.D., previously the George Eastman Professor of Brain & Cognitive Sciences at the University of Rochester, moved to Georgetown to serve as Director of the Center.  Alexander Dromerick, M.D., Professor of Rehabilitation Medicine and Associate Medical Director for Research at MedStar National Rehabilitation Network, is the Center's Co-Director. Both Elissa and Alex are Professors in the Department of Neurology at Georgetown.
This unique interdisciplinary Center for Brain Plasticity and Recovery harnesses Georgetown's strengths in the sciences and humanities, including linguistics, foreign languages, psychology, and philosophy as well as computer science and biology, and matches them with MedStar NRH's clinical and patient care expertise, to conduct innovative research on the mechanisms of learning, development, and neural plasticity in the human brain.
The Center for Brain Plasticity is a strategic priority for the Medical Center and part of the University's $1.5 billion fundraising campaign, For Generations to Come.

---
Related Links