Shashwati Geed, P.T., Ph.D.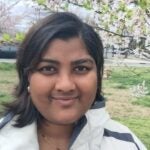 Dr. Geed's research focuses on upper extremity motor recovery post stroke. Specifically, she examines how inhibitory networks in the brain affect motor function in typical aging and in individuals recovering from stroke. A long-term goal of this work is to use mechanisms of critical period neuroplasticity, typically observed in the developing brain, towards motor function restoration after stroke. She uses a variety of techniques including EEG, TMS, tACS/tDCS, EMGs, accelerometry, and force sensors to measure brain function and behavior in her lab.
A second research interest is to improve stroke rehabilitation trial methods by optimizing how we measure and statistically model change in motor impairment over time in neurorehabilitation clinical trials.
Education & Training
PhD, Kinesiology (Motor control, Neuroscience), University of Wisconsin-Madison
Postdoctoral Fellowship, MedStar National Rehabilitation Hospital and Georgetown University
Contact Info
202-877-1131
Shashwati.Geed@georgetown.edu