Michelle Harris-Love, PT, Ph.D.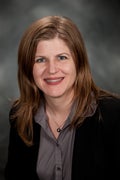 Assistant Professor, GUMC and Director, MOTR Laboratory, MedStar National Rehabilitation Hospital
Dr. Harris-Love received her training at theMayo School of Health Sciences, M.S. Physical Therapy, 1997 and the University of Maryland, Ph.D. Rehabilitation Neuroscience, 2004.
Her current research includes non-invasive brain imaging and stimulation techniques have opened up the possibility of addressing key mechanistic questions related to human neuro-rehabilitation. We use these techniques to localize, quantify, and modulate brain activity in association with the performance of upper extremity motor tasks. One technique, transcranial magnetic stimulation (TMS), is used to painlessly stimulate the motor cortex and other cortical areas.
This type of mechanistic information could be used to develop improved interventions for brain-injury-related motor impairments.
Dr. Harris-Love runs the Mechanisms of Therapeutic Rehabilitation Lab (MOTR Lab) at MedStar NRH.